Connecticut Academy of Arts and Sciences
Minutes of the CAAS 1433rd Meeting
February 12, 2014
at The Whitney Center, Hamden CT
Lecture by Joanna Radin, Assistant Professor of the History of Medicine at Yale University — "What Does It Mean to Help? Medicine, Ethics and Humanitarianism."
The 1433rd meeting of the Connecticut Academy of Arts and Sciences was held on Wednesday, February 12, 2014 at 5 p.m. at the Whitney Center in Hamden, Connecticut. Some 40 members and their guest enjoyed wine and conversation before the talk. Some 30 members and guests stayed to enjoy dinner.
Dr. Gregory Tignor, the President of the Academy, opened the meeting by welcoming the audience. He said that before the scheduled event he wished to present a little surprise. This being Black History month he wanted to introduce his two special friends Raymond Johnson and Robert Green. He said that his friends and he went to segregated schools together in the nation's capitol, Washington, DC: Charles Young elementary school, Brown junior high School and Dunbar High School. After high school, Raymond went to Dartmouth and he went to Yale, but they forgave each other. Robert stayed in DC and went to Howard University.  Raymond went back to DC to Howard Medical School and became a gastroenterologist.  He later became head of the Bethesda-Naval-Medical Hospital, the Hospital of the Presidents.  Later, he received an honorary degree from Dartmouth.  He, Gregory went into Public Health at Johns Hopkins.  A few years ago, he received a "Knowledge for the World" award from the Johns Hopkins Alumni Association.  Robert became a mathematician working for IBM.  He retired and then operated a jewelry store in New Canaan, CT for 20 years with his wife.  They retired last year and live in Stamford, CT.   Raymond lives outside Groton, CT with his wife.  Dr Tignor, clearly justifiably proud of their considerable achievements, said that they have all stayed in touch for many, many years and that their friendship had not diminished.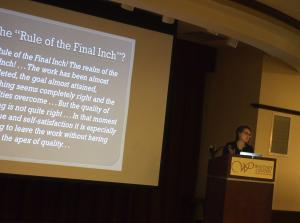 Kemerer Edwards, an alumnus of Yale College and a member of the Academy, then introduced the speaker for the evening, Joanna Radin, Assistant Professor of the History of Medicine at Yale University. The title of Dr. Radin's talk was, "What Does It Mean to Help? Medicine, Ethics and Humanitarianism." Professor Radin introduced the concept of "the final inch", that last effort which is required to ensure that an important project does not die. She cited the eradication of polio as an example.  In 1975 worldwide eradication of polio was begun and initially was successful. Polio has now reappeared and that "final inch" has become very long. There are numerous attempts to sabotage this effort in Pakistan, Nigeria and Afghanistan. Nine aid workers were killed in Pakistan alone last year. The stigma of global health aid and local rumors converge to create resistance to the vaccination that is necessary. Rumors include the idea that vaccination was used in the capturing and killing of Bin Laden; when aid workers enter a home the inhabitants are interrogated; the vaccinations contain HIV. These examples highlight the challenges facing workers who want to "help". Good intentions also can have bad results.
History gives us insight into the problems and solutions but there must be an understanding of the common cause. Global health and public health must be synthesized in order to ensure that both prevention and individual clinical care are addressed and do not compete. "Helping" creates learning also. Bill Gates and his "technological expertise" led to the stabilization and the efficient transportation of vaccines for example. Colonial history is an important element when contemplating a health project, particularly in Africa. Many people died building railroads. Syringes and needles were often reused and led to the accidental spread of the HIV virus. However this also led to the unintended consequence of using the blood that had been stored for new research. However this leads to yet another problem such as the ignorance of the participants, or owners of the blood samples, in such an experiment. A good example of this is Henrietta Lacks whose cells, unbeknown to her, were used for important widely used cell lines and her family had no compensation, not even medical insurance.
Dr Radin concluded by saying that the question must always be asked when attempting a "helping" project. "Is it helping them more than me?"  The mixed motivations involved in attempting any project must also be understood. History must be used as a resource not only to understand the culture of the territory to be entered but also how did other people fare when they attempted a helping project in that same arena.  Clearly her enthusiasm for the subject of intervention was tempered by her desire to alert those involved to the difficulties and pitfalls that they might encounter and for them to be circumspect in their own enthusiasm.
Respectfully submitted by Margot Kohorn