Meeting Minutes 14587 May 24, 2017
Connecticut Academy of Arts and Sciences
Owenego Inn, Branford, CT.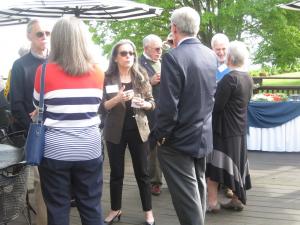 Minutes of May 24, 2017–Meeting No. 1457.  "The Lost History of Congressional Violence in Antebellum America."  Presented by Joanne B. Freeman, Professor of History, Yale University.
The President convened the formal meeting at 5:30 following a wine reception for the guest speaker, Professor Joanne Freeman, Yale University History Department.
Dinner was served as the following new members were inducted into the Academy:
• Charles
Schmuttenmaer
, 
Professor of Chemistry, 
Yale University
• 
Susan Hall Forster, M.D., 
Chief of the Ophthalmology Department, 
Yale Health
• 
Jonathon Howard, 
Eugene Higgins Professor of Molecular Biophysics and Biochemistry and Professor of Physics
• 
Jacob S. Hacker, 
Director, Institution for Social and Policy Studies, Stanley B.
Resor
Professor of Political Science
• 
Saglar
Bougdaeva
, Ph.D. and MPH, 
Southern Connecticut State University
Following the voice vote on the new members, President Tignor introduced Professor Freeman as a very distinguished historian with numerous professional awards of honor from local, national and international organizations.
Her talk addressed the topic of her coming book on physical violence in the U.S. Congress, titled "The Field of Blood," and due to be published by Farrar, Straus and Giroux in April 2018. She explored the topic by asking and answering five questions:
1) What do we mean by "physical violence in Congress?"
2) Why haven't we known about it before?
3) Why was it happening?
4) Why wasn't it stopped?
5) What was its impact?
In the course of answering these questions, she also discussed the role of the press in encouraging more violence by creating a "cycle of stridence"; the role of the telegraph in spreading news of congressional violence with remarkable speed (for the nineteenth century, that is!); the role of high emotions in spurring people inside and outside of Congress to behave violently; and the role of public opinion in congressional violence.
Following her talk, there was discussion of the relevance of her historical presentation to the current political atmosphere in America. 
There were also many questions regarding the role of her scholarship in the musical "Hamilton."
The meeting ended with dessert and coffee a la carte.