Connecticut Academy of Arts and Sciences
Minutes of the CAAS 1449th Meeting
February 10, 2016
Whitney Center, Hamden, CT
Minutes of CAAS Meeting 1449:  Willie Ruff, Professor of Music, and Founder and Director of The Duke Ellington Fellowship at Yale University.
Gregory Tignor, President of CAAS, convened the meeting.  He quoted a passage from First Lady Michelle Obama (FLOTUS) related to the value of perseverance in achieving success.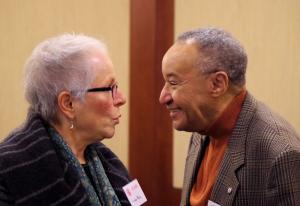 In honor of Black History Month, Professor Tignor asked the audience to stand in the singing of the "Negro National Anthem," List Every Voice and Sing by James Weldon Johnson whose collection rests at Yale.
Professor Tignor then returned to Michelle Obama's quote to introduce Professor Willie Ruff.  "The power to keep reaching higher."  He referred to Ruff's early life and musical influences in North Alabama such as his childhood idol, the author of the Saint Louis Blues, W.C. Handy. 
As a pretty good drummer and Boogie Woogie piano player, he joined the US army band at age 14. He was fired when his age was discovered.  But, he managed to stay on by playing the French horn.  By the time he was sixteen, he was good enough to be accepted into the 766 Army Air Corps band in Columbus Ohio among the famed All-Black Tuskegee Airmen. There he met the resident nineteen-year-old piano playing genius named Ivory Dwike Mitchell who taught him to play the bass fiddle. 
He left the Army for Yale School of Medicine.  Mitchell left for the Philadelphia Music Academy.  After they had finished their education, they formed a duo and played with some of the greatest groups in the nightclub and concert circuits.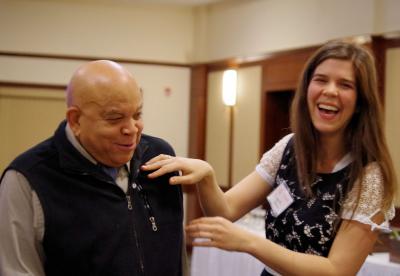 Willie Ruff took the podium and noted that he appeared before CASS many years ago with John Rogers using Kepler's harmony.  They made a recording.  Carl Sagan called to get permission to use his recording on a spacecraft Voyager.  After teasing, he gave permission.
In this meeting of CAAS, he has been invited to speak about his work on Duke Ellington creating the Conservatory without Walls.  He was given permission to do it but he had to find money.  He brought 40 famous musicians to Yale with financing from the Sachem Foundation, the son of Paul Mellon.  However, he was not allowed to film because of copyright laws. 
Marian Anderson arrived in her Ford Convertible. Anderson always spoke in the "Royal We."  She recalled how kind Yale had been in offering use of Sprague Hall when other sites turned her down. Many press people were there among dozens of musical performers including Duke Ellington, Max Roach and 40 others. 
WTIC had two news people filming what was going on, filming in the basement of Woolsey Hall, doing interviews with many of the musicians.
Ruff knew nothing of the filming. The old film had to be translated from old formats that were used. This project ended up in the Yale Archives. Yale Archivists found "an old geezer" named Ruff who could identify the people involved. He found himself and several others. Thus they made the film available to him.
He told about several features of Duke Ellington. Sent Christmas cards in July. Began his meals with desert. He was asked, "Why eat your desert first?"  The answer: "Life is so uncertain."  Third, Duke was cosmopolitan in many ways, greeting friends in French style with multiple kisses, one for each cheek.
The film followed Ruff's introduction with John Sablom and his colleague from WTIC moderating. Many great musicians performed in the film.  Duke played stormy Weather by the Duke.  Fletcher Henderson who was a dance band player influenced Duke so there were multiple dancers on display in the film. 
The Dean of Music said, "Duke, we love you madly." He was then awarded a Medal from the "Conservatory without Walls."  Kingman Brewster arrived and, after multiple kisses from Ellington, said,   "Duke, this is your University."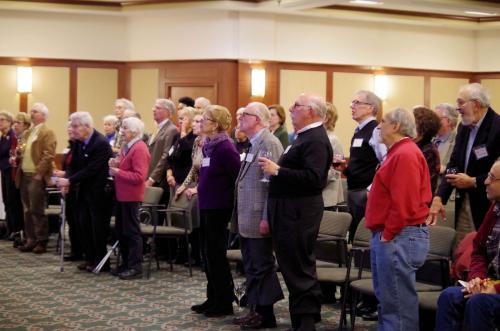 Willie "The Lion" Smith performed among others. He was especially honored because he was one of Duke's teachers.
Mr. Joe Jones said "Thank You" to great applause. He had played for years with Count Basie. Sablom interviewed him at great depth. Jones described Ellington as the greatest "slave driver" in the universe. He called him a superb "puppeteer" in the world, an Attila the Hun, and a musical legend.
More selections from the Duke followed. Since the death of Billy Strayhorn, Jones considered that Ellington became more prolific.
Ellington at Yale by Brad Davis and Bob Sablom, part 2.
Interview with Max Roach who placed Ellington above all categories.
Ellington played one piece emphasizing his Asian influence, specifically the kangaroo and the didgeridoo.
Conclusion:
Ruff said he had nothing to do with the filming.
Ann Altman asked how thrilled Ruff was with discovery of film:  Ruff replied "Thrilled beyond belief."  Duke died two years later.
Did Duke's program affect Benny Goodman's papers coming to Yale?  Ruff knew Goodman's music.  Knew Mel Powell who got him a job with Benny Goodman. From there, he got to play in the dive joints in New Haven.
John Blanton said he'd been a fan forever.  Did you bring your horn?  Ruff said no.  But musicians are always hungry so let's eat.
Minutes by Monica Aspianto
Photos by Robert Green