Connecticut Academy of Arts and Sciences
Minutes of the CAAS 1440th Meeting
January 13, 2015
Whitney Center, Hamden, CT 
Lecture by Erin Larkin, Assistant Professor, Southern Connecticut State University, who spoke on: "My Futurism:  Reflections On The Women Of Italian Futurism"
The 1440th meeting of the Connecticut Academy of Arts and Sciences was held on Tuesday, January 13, 2015, at the Whitney Center in Hamden, CT.  
The President of CAAS introduced the Vice-President for SCSU, David Pettigrew.  The President thanked Professor Pettigrew for his efforts in "growing the Academy."
A roster of new members was presented to the members of CAAS.  The listed was impressive and included several senior officers of SCSU.  Members were invited to stand after introduction.
Professor Pettigrew then presented the speaker, Erin Larkin, Assistant Professor, Southern Connecticut State University, who spoke on: "My Futurism:  Reflections On The Women Of Italian Futurism"
Larkin introduced her talk by a discussion of Futurism as possibly linked to fascism.  Yet from its beginning Futurism also held a strong attraction for women anxious to escape the confines of traditional roles, an interest that further increased during World War I as the rapid social changes it imposed created new opportunities and expectations for women.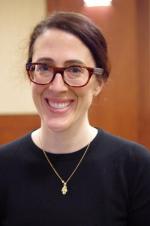 Professor Larkin examined works by the women artists and writers of Italian Futurism, the 20th century avant-garde cultural movement perhaps best remembered for its "disprezzo della donna", or disdain for women.  She believes that an archival approach to Futurism is essential: what emerges from the study of rare and unpublished texts is a more nuanced vision of both Futurism's 20 year trajectory and its adherents.
By introducing these lesser-known futurist contributions, she offered to the audience a more complex portrait of the movement, and ultimately provided context to the participation—and impact—of these women to the early Italian avant-garde.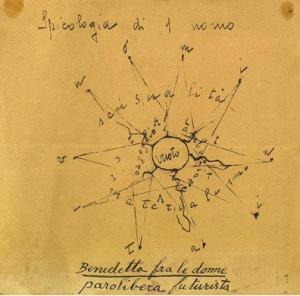 Larkin's talk was divided into three parts. First, she sketched some background on Futurism; then she introduced a fairly diverse group of female futurists, and examined their reformulations of the movement's early foundations; finally, she discussed her most recent work on Benedetta Cappa Marinetti, analyzing Cappa's attention to themes of the sacred in her poetry and first novel, Human Forces, and demonstrating the influence that Benedetta's radical new perspective had on the spiritual turn of Futurism in the 1920s and 1930s. 
She began by showing a 1909 publication of Le Figuro in which futurism movement was depicted as a manifesto, a hyperbolic statement intended to penetrate all areas of Italian life.
In 1912, the position of women in futurism was discussed along with the role of women in futurism.  Various major figures were introduced. 
Considerable time was spent discussing Benedetta and her work in the 1920's.
Respectfully submitted by Gregory Tignor
Photographs by Robert Green