Connecticut Academy of Arts and Sciences
Minutes of the CAAS 1439th Meeting
November 5, 2014
Whitney Center, Hamden, CT 
Lecture by Professor Annabel Patterson, Sterling Professor Emeritus of English, Yale University spoke on "The Hussey: An Early Modern Court Case."
The 1439th meeting of the Connecticut Academy of Arts and Sciences was held on Tuesday, November 5
, 
2014, at the Whitney Center in
Hamden
, CT.  
In her introduction, Professor Patterson described the historical trial in 1682 of Lord Grey of Werk as a case where fact is better than fiction. The trial of Lord Grey, which took place at King's Bench, was the response to an aristocratic scandal.  Grey was charged by Lord George Berkeley with "unlawful tempting and enticing" his youngest daughter, Lady Henrietta Berkeley, not yet eighteen, to leave her father's house "with the intent to cause her to live in a scandalous manner with Lord Grey."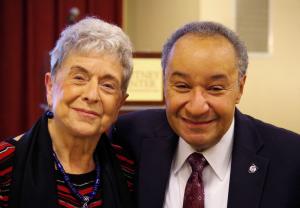 Berkeley had unwittingly spread the scandal by advertising his daughter's disappearance, giving a physical description of her, including her "'full breastedness," a detail omitted from later versions of the advertisement.
Whatever she had done, Berkeley wanted his daughter back, and to that end filed a de homine replegiendo, an early form of habeas corpus.  The trial transcript, taken verbatim by one of the many skilled shorthand writers of the day, is a hilarious read, giving us the testimony of Lady Berkeley and another daughter about how Henrietta was caught sending a love letter to Werk, locked up (inadequately) and still managed to run away to London, to be close to her lover. The transcript reads like a Restoration comedy, complete with stage directions.
At this point, Professor Patterson told the audience that she ran away from her home to Canada at a similar age. But that was with her parents' complicity.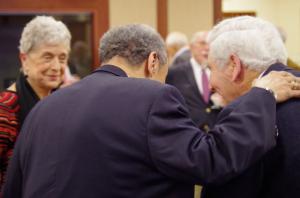 Because Henrietta and Werk exchanged love letters, it has been claimed that the trial was the "source" for the amorous novels of Aphra Behn, which were written in epistolary form. But the transcript was not in fact published until the early eighteenth century, too late for Behn to have seen it.
True to its relationship with drama, the trial had a surprise ending.  We encourage you to find out what it was.
Respectfully submitted by Gregory Tignor
Photographs by Robert Green