Event time:
Wednesday, April 24, 2019 - 5:00pm
Location:
The Whitney Center
200 Leeder Hill Drive
Handen
,
CT
06517
Event description: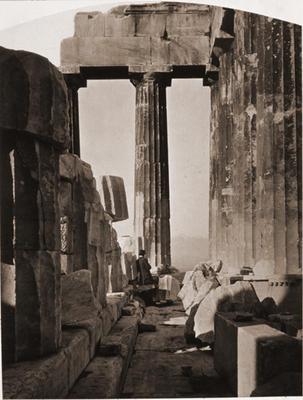 Within a few months after its invention in 1839, photography was being used to depict the monuments of Classical antiquity in Greece and Italy. The growth of photography coincided with the burgeoning of middle-class travel around the Mediterranean, which in turn gave rise to a great increase in texts like guidebooks and travel memoirs. In this lecture Andrew Szegedy-Maszak will discuss the early photographic images of Greece and the cultural context in which they were created. 
The attached image is "Eastern Portico of the Parthenon" by William James Stillman (1869): private collection.
About Andrew Szegedy-Maszak
Greek history and historiography, classical mythology and the history of photography - and the connections among all these -  are embodied in the research and teaching of Professor Andrew Szegedy-Maszak, of Wesleyan University's Classical Studies Department. He is author of more than 40 articles on the ancient Greeks and on photography. His current project is a study of the representation of Classical sites by 19th-century photographers, a theme he discussed in 2005 when he co-authored Antiquity and Photography for the J. Paul Getty Museum. The same year he wrote "An American on the Acropolis: William James Stillman" for the journal History of Photography. He wrote the text for a book on the American photographer Paul Strand – Toward a Deeper Understanding: Paul Strand at Work (Steidl-Pace/MacGill: 2007). More recently,he wrote the text for Photographing Ina (Steidl: 2016), a collection of portraits by the renowned photographer, Philip Trager.
Szegedy-Maszak is among the first faculty at Wesleyan, and in the nation, to teach a MOOC (Massive Open Online Course) for Coursera. His course is "The Ancient Greeks," and he was interviewed about it here.
Andrew Szegedy-Maszak earned his B.A. in Classics at the University of Michigan and his Ph.D. at Princeton University. Since 1973 he has been on the faculty at Wesleyan University, where he is now Professor of Classical Studies and Jane A. Seney Professor of Greek. He has also held visiting professorships at UCLA, Dartmouth and the Yale School of Drama. He has been a guest scholar in the Department of Photographs at the J. Paul Getty Museum. He has won the American Philological Association's award for excellence in the teaching of Classics, as well as the Wesleyan University award for teaching excellence. In 1998-99 he was the "250th Anniversary Visiting Professor for Distinguished Teaching" at Princeton. In 2012-13 he was Wesleyan's first Distinguished Teaching Fellow.
Dinner followed for CAAS members and guests. (Dinner fee is $38/person) 
Click 
here
 to pay online.
For information, dinner reservations, and directions, phone the CAAS office at (203) 432-3113 ext. 2 or email: 
caas.membership@yale.edu
. 
Dinner reservations are required by the Thursday prior to meeting. Any cancelations must be received 48 hours before the meeting in order for us to refund dinner cost.  
Free parking is available.