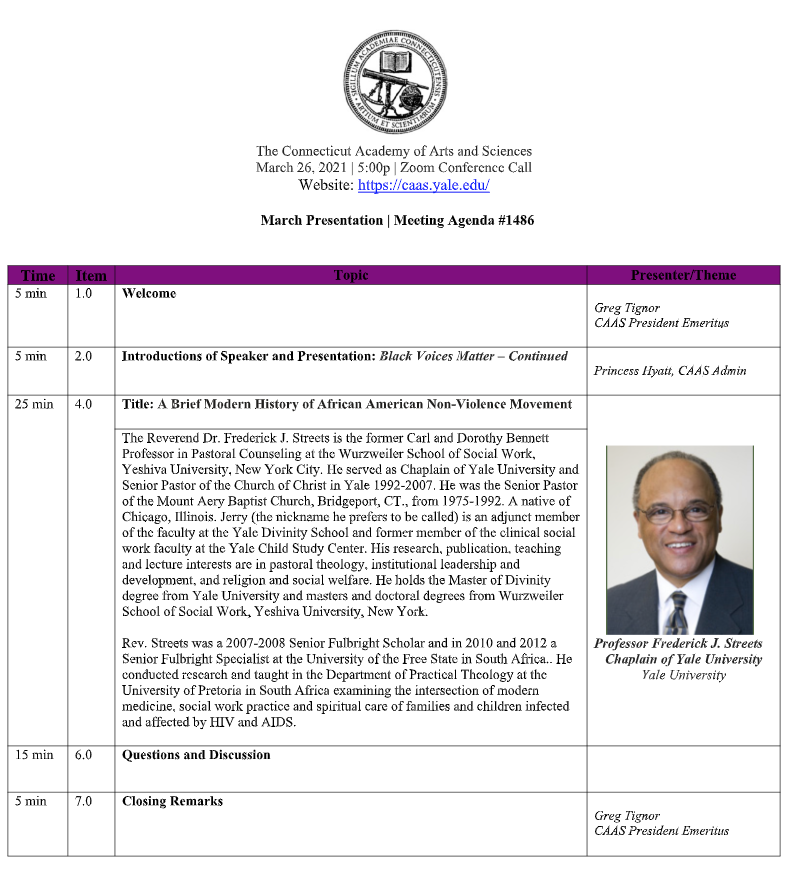 Event time:
Monday, March 29, 2021 - 9:15pm
Event description:
Title: A Brief Modern History of African American Non-Violence Movement
The Reverend Dr. Frederick J. Streets is the former Carl and Dorothy Bennett Professor in Pastoral Counseling at the Wurzweiler School of Social Work, Yeshiva University, New York City. He served as Chaplain of Yale University and Senior Pastor of the Church of Christ in Yale 1992-2007. He was the Senior Pastor of the Mount Aery Baptist Church, Bridgeport, CT., from 1975-1992. A native of Chicago, Illinois. Jerry (the nickname he prefers to be called) is an adjunct member of the faculty at the Yale Divinity School and former member of the clinical social work faculty at the Yale Child Study Center. His research, publication, teaching and lecture interests are in pastoral theology, institutional leadership and development, and religion and social welfare. He holds the Master of Divinity degree from Yale University and masters and doctoral degrees from Wurzweiler School of Social Work, Yeshiva University, New York. 
Rev. Streets was a 2007-2008 Senior Fulbright Scholar and in 2010 and 2012 a Senior Fulbright Specialist at the University of the Free State in South Africa.. He conducted research and taught in the Department of Practical Theology at the University of Pretoria in South Africa examining the intersection of modern medicine, social work practice and spiritual care of families and children infected and affected by HIV and AIDS.