Facsimiles of original articles from the Memoirs or the Transactions can be obtained on request. For example the first article in Memoirs, Noah Webster's 1810 paper entitled "A dissertation on the supposed change in the temperature of winter," and other famous presentations original to the Academy are or could be made available (see individual listings under Facsimile series).
Some of the famous publications of the Academy have gone out of print. We have elected to reproduce them exactly as they were originally printed. As requests come in for a particular publication we will scan them and be able to send out a facsimile on request.
The following are now in our Facsimile series: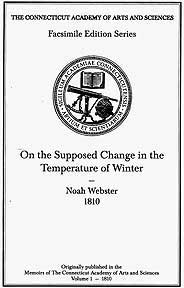 f1
Bidwell, Percy Wells
[F 1, 158 p., ISBN 1-878-50814-8 $ 15.00 (p)]
Rural Economy in New England at the beginning of the nineteeth century. Transactions Volume. 20, p.241-399 (1916).
f2
Webster, Noah
[F 2, 68 p., ISBN 1-878-50816-4 $10.00 (p)]
A dissertation on the supposed change in the temperature of winter. Memoirs 1, Article 1, p.1-68