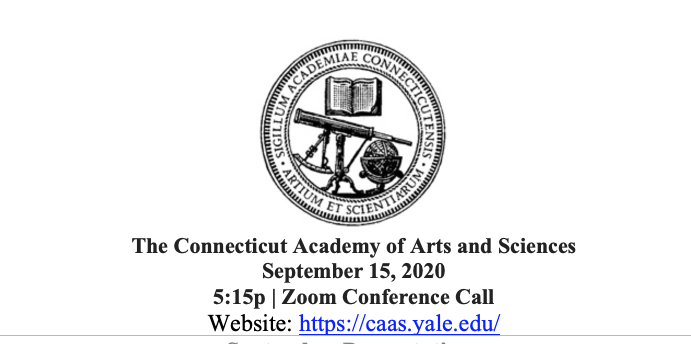 Event time:
Tuesday, September 15, 2020 - 5:00pm
Location:
Online via Zoom Conference Call
Event description:
Meeting #1481 of the the Connecticut Academy of Arts and Sciences-recorded on 9-15-2020 via Zoom
• Welcome, Updates, and Brief Introductions of Presentations
• Presentation 1 by Susan McCaslin - Clues: Quinnipiac River State Park
A photographic and investigative study of Quinnipiac River State Park, presented by Susan McCaslin. What began as an assignment became a brief obsession. In the fall of 2014, while enrolled in the Graduate Liberal Studies Program at Wesleyan University and under the tutelage of photographer Marion Belanger, Yale MFA, McCaslin chose the Quinnipiac River State Park as her subject, never expecting the twists and turns that would accompany the project.
• Presentation 2 by Soloman Maple - When Music Meets the Mind
His passion and natural connection to music gives him a heightened sense of sound. Just listen to his music; he fiddles with the keys, running scales as if he were actually pacing them though his mind. Need some Jazz in your life? Get ready to take a personal journey through music with Soloman!
• Presentation 3 by Corina S. Alvarezdelugo- Material Response Series (Masks)
"Do what you can with what you have, where you are" -T. Roosevelt
A month into quarantine life because of Covid-19, I found myself adjusting to it by creating a series of hand crafted face masks out of materials at hand –one each day— as a way of reflecting this time in isolation, and creating a sense of purpose. We are all being asked to wear masks so I decided to use the mask to respond to what I hear in the news, how I feel, or just to keep my hands and mind busy as well as to teach myself to crochet… Turning this material based process into a performance, inviting connection and allowing for community. Indexing my time in isolation, I don't feel as alone. These facemasks play with ambiguity and symbolism as they won't protect us from the virus, they represent a thread of connection in the times we are living in. Masks range from $500 to $1,000.00. Email: corinadotdash@gmail.com/ Website: www.justcorina.com /IG: @justcorina_studio
• Closing Remarks and Thank you to Speakers and Participants