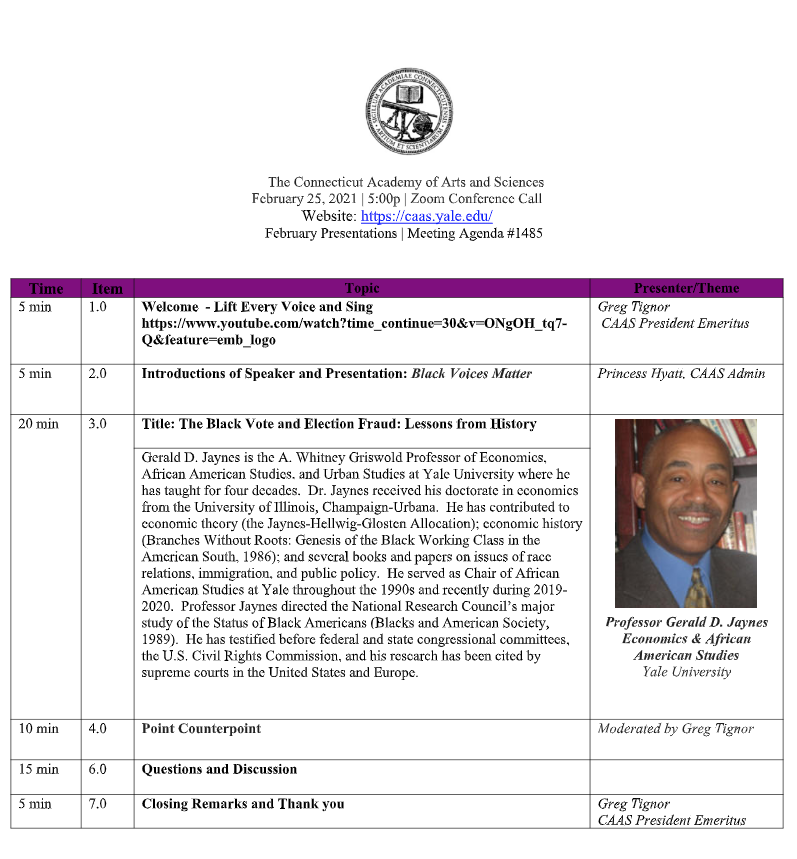 Event time:
Thursday, February 25, 2021 - 5:15pm
Event description:
"The Black Vote and Election Fraud: Lessons from History"
Presented by Gerald D. Jaynes, A. Whitney Griswold Professor of Economics, African American Studies, and Urban Studies at Yale University where he has taught for four decades.  Dr. Jaynes received his doctorate in economics from the University of Illinois, Champaign-Urbana.  He has contributed to economic theory (the Jaynes-Hellwig-Glosten Allocation); economic history (Branches Without Roots: Genesis of the Black Working Class in the American South, 1986); and several books and papers on issues of race relations, immigration, and public policy.  He served as Chair of African American Studies at Yale throughout the 1990s and recently during 2019-2020.  Professor Jaynes directed the National Research Council's major study of the Status of Black Americans (Blacks and American Society, 1989).  He has testified before federal and state congressional committees, the U.S. Civil Rights Commission, and his research has been cited by supreme courts in the United States and Europe.