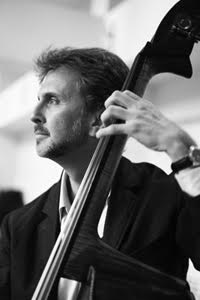 Event time:
Tuesday, March 8, 2016 - 5:00pm
Location:
The Whitney Center
200 Leeder Hill Road
Hamden
,
CT
06517
Event description:
On Tuesday, March 8, Brian Q. Torff presented "Bringing the past forward: From Ellington to New Duke." He played various videos, and MP3 recordings during his talk to CAAS.
Brian Q. Torff
is a bassist, composer, author and educator. Currently he is a Professor of Music and Music Program Director at Fairfield University. He is the musical director and arranger for New Duke and performs with the Django Reinhardt New York Festival, which has appeared at Lincoln Center, The Kennedy Center and Birdland. Torff has performed at Carnegie Hall for Fiddle Fest where he appeared with Mark O'Connor, Dave Grusin, Regina Carter, Yo Yo Ma, Itzhak Perlman and Pinchus Zukerman. He performs in jazz festivals throughout the United States and was the founder of the Fairfield University Summer Jazz Workshop.  In 1992 he served as co-chairperson for the Music Advisory Board for the National Endowment for the Arts, and in 2008 Torff was named Artist of the Year by the Fairfield Arts Council. In early 2008 Brian Torff lived in Paris where he wrote his book
In Love with Voices: A Jazz Memoir
, published by iUniverse. In addition to his work at Fairfield University, he is also the Jazz Series director at the Westport Arts Center in Westport, CT.
Professor Torff will play various videos and MP3 recordings during his talk to CAAS.
This meeting was free and open to the public. The meeting began at 5 p.m. with a reception. 
The lecture presentation was from 5:30-6:30 p.m. with discussion.
Dinner follows! for CAAS members and guests. (Dinner fee is $35/person)
For information, dinner reservations, and directions, phone the CAAS office at (203) 432-3113 ext. 2 or email: 
caas.membership@yale.edu
. 
Dinner reservations are required by the Thursday prior to meeting. Any cancellations must be received 48 hours before the meeting in order for us to refund dinner cost.  
Free parking is available.