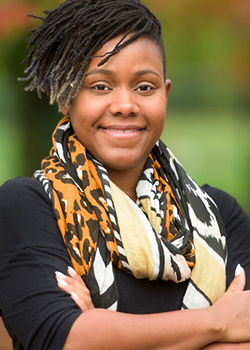 Event time:
Wednesday, January 16, 2019 - 5:00pm
Location:
The Whitney Center
200 Leeder Hill Drive
Hamden
,
CT
06517
Event description:
Siobhan Carter-David, Ph.D., is Associate Professor of History and Affiliate Faculty in the Women's Studies Program at Southern Connecticut State University. She will present "Garbing Gods on the Big Screen: Cultural Nationalism and Fashion in Hip-Hop Cinema," exploring how film directors in the 1980s and 1990s employed—and in some ways helped to shape—archetypes in the creation of politically conscious black male characters in films geared toward the hip-hop generation. Using both satire and earnestness, these archetypes became identifiable through an intra-cultural understanding of the lingo and rhetoric of two historic waves of black cultural nationalist ideology, but also through the material culture that they produced: namely, African and Islamic-inspired attire and accessories which serve as both subtle and covert audience signals. The creation, sartorial styling, and community reception of these character tropes reveal the historic and contemporary complexities in the adornment of the black body as separate from, or part and parcel of, one's racial politics.
Siobhan Carter-David is a cultural historian of the experience of African descended people in the United States. Her work deals with the imaginative and complex ways that blacks have, particularly in post-Civil Rights America, created worlds inside of worlds that respond to, but develop a discourse independent of, the white gaze—largely through the examination of fashion and dress norms in the evolving, expansive, and sometimes enigmatic annals of black style.
Carter-David is Associate Professor in the Department of History and affiliate faculty in Women and Gender Studies at Southern Connecticut State University, teaching in the areas of fashion/beauty studies, women and gender studies, and African American, African Diasporic, urban, and contemporary United States histories. Her book project "Issuing the Black Wardrobe: Fashion and Anti Fashion in Soul and Post-Soul Publications" explores fashion as a racial uplift strategy of African American magazines in the two decades following the Civil Rights Movement. She is author of several chapters in edited volumes and exhibition catalogues, writing on black style, feminism, and print culture.
As a public historian, she has worked with museum and special collection curators on projects involving various facets of African American and broad-based United States cultural histories, even curating her own exhibit as a graduate student. "Strong Shoulder" explored the meaning of "power dressing" in its 1980s heyday, as well as its position within third-wave feminism and corporate culture.
A number of internal grants from Indiana University and Connecticut State University, as well as the Schomburg Center for Research in Black Culture Scholars-in-Residence Program Travel Award and the Andrew W. Mellon Foundation/Moorland-Spingarn Research Center Travel-to-Collections Grant have supported her work.
Carter-David received her B.A. in English from Morgan State University (2001), her M.A. in United States History from City College/City University of New York (2004), and her dual PhD in History and American Studies from Indiana University (2011), where she was Organization of American Historians Diversity Fellow.
 
Dinner followed for CAAS members and guests. (Dinner fee is $38.00/person) 
Click 
here
 to pay online.
For information, dinner reservations, and directions, phone the CAAS office at (203) 432-3113 ext. 2 or email: 
caas.membership@yale.edu
. 
Dinner reservations are required by the Thursday prior to meeting. Any cancelations must be received 48 hours before the meeting in order for us to refund dinner cost.  
Free parking is available.