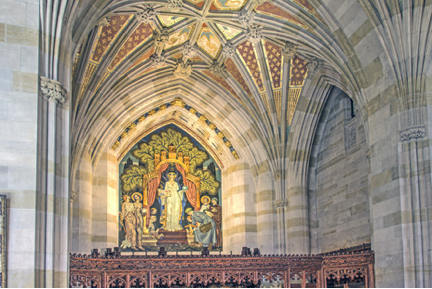 The Sterling Memorial Library (SML) at Yale has undergone a major restoration that has returned the nave to its original architectural splendor.  The nave's stained glass windows were completely restored. 
The restoration also included thoroughly cleaning of all the stone surfaces, highlighting the contrast between alternative blocks of limestone and sandstone; cleaning and restoring the plaster and wood ceilings; installing new lighting and environmental controls; and restoring the mural painting of Alma Mater.
Our fellow CAAS member, Susan Gibbons, the University Librarian offered a tour to all CAAS members on September 23 at 11 AM.
So many members attended the tour that the group had to be divided into two groups. One group was led by Susan Gibbons and the other group by Daniel Dollar.
Some of those who took the tour had lunch at Mory's following the tour.